Criminal Defense Attorney
Education
1994 Wake Forest University
1998 George Mason University Law School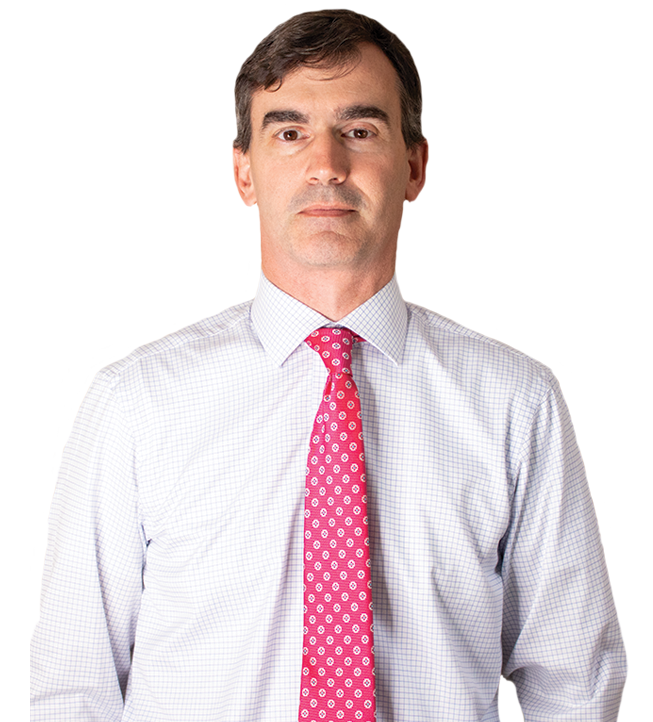 About Chuck
Chuck was born and raised in Central Virginia and currently lives in the Central Virginia area with his wife and two children.
Chuck was, and still is, a sports fanatic. Chuck played competitive tennis from a young age and eventually had a successful high school tennis career which led him to play tennis in college at Wake Forest University. Playing a college sport at a Division I ACC school was the highlight of his athletic accomplishments. Chuck's son has been bitten by the sports bug as he competes in many sports while his daughter is very active with local theater, singing, and dancing. If not in his office or in the courtroom, Chuck and his wife are traveling to practices and games with their son, and rehearsals and performances with their daughter.
Prominent Positions Held:
Assistant Commonwealth's Attorney in the City of Lynchburg
Assistant Commonwealth's Attorney in Henrico County
Deputy Commonwealth's Attorney in the City of Lynchburg
Special Assistant United States Attorney for the Western District of Virginia.
Chief Deputy Commonwealth's Attorney in the City of Lynchburg
Chuck Felmlee's Past Experience
After graduating law school, Chuck first worked for a law firm in Washington, D.C., Morgan, Lewis, & Bockius. Working as a staff attorney in the Labor & Employment section, Chuck spent two winters involved in the Major League Baseball salary arbitration hearings. During these hearings, Chuck's firm represented the teams against their players and agents. Chuck was able to meet and work with the General Managers for the New York Yankees and the Minnesota Twins. Sitting across the table from Yankees closer Mariano Rivera during the 1999 arbitration and working with Yankees General Manager Brian Cashman and Assistant General Manager Kim Ng were highlights from the arbitration hearings.
In 2000, Chuck made a decision to leave the big firm life and begin a career in criminal law. That same year he was offered a job as an Assistant Commonwealth's Attorney in his hometown of Lynchburg, VA. Beginning with his first day on the job, June 26, 2000, his passion for criminal law has continued to grow. Over the next seventeen years, Chuck worked tirelessly as a prosecutor going to court everyday on behalf of the citizens of the Commonwealth of Virginia. Chuck first was the chief misdemeanor prosecutor for the City of Lynchburg prosecuting all adult misdemeanor offenses between 2000 and 2001. In 2001, Chuck shifted to prosecuting a combination of felony offenses and serious misdemeanor offenses.
In 2002, Chuck and his wife moved to Richmond, VA as Chuck was offered a position as an Assistant Commonwealth's Attorney in Henrico County, VA serving as the chief firearms prosecutor for the county. Henrico County is one of the largest prosecutors office in the state and was an invaluable training ground as Chuck began to prosecute more and more serious cases. While in the Richmond area, Chuck was also exposed to many of the top criminal defense attorneys and was able to see how they perfected their craft.
In 2004, Chuck and his wife and growing family moved back to Lynchburg as Chuck was offered a position as a Deputy Commonwealth's Attorney for the City of Lynchburg supervising a team of prosecutors. Chuck first was assigned the role of lead juvenile and domestic relations prosecutor. In this capacity, Chuck either handled or supervised the most complex cases involving juvenile defendants.
In 2006, Chuck switched back over to supervising and prosecuting all major adult felony offenses in the City of Lynchburg. Over the next eleven years, Chuck served as the chief drug prosecutor working closely with the local Vice and Narcotics unit of the Lynchburg police department. During this time, Chuck also played a role in every homicide investigation and prosecution in Lynchburg as either the lead prosecutor, a supervisor, or advisor.
In 2017, after a full seventeen years of serving as a prosecutor, Chuck made the decision to open his own law firm and focus exclusively on criminal defense. Chuck Felmlee Law, P.C. officially opened its doors on July 1, 2017. Focusing exclusively on criminal defense has allowed Chuck and his staff to become local experts in state criminal law and become a go-to practice for anyone needing a criminal defense lawyer in the Central Virginia area.
Over a 20-year career in criminal law, the following is a list of crimes that Chuck has prosecuted or defended:
First Degree Murder
Second Degree Murder
Felony Murder
Attempted Murder
Voluntary Manslaughter
Involuntary Manslaughter
Aggravated Malicious Wounding
Malicious Wounding
Unlawful Wounding
Use of a Firearm in the Commission of a Felony Offense
Maliciously Shooting at an Occupied Dwelling
Maliciously Shooting at an Occupied Vehicle
Shooting from a Vehicle
Possession of a Firearm by a Felon
Possession of a Firearm while in Possession of a Controlled Substance
Concealed Weapon
Brandishing a Firearm
Reckless Handling of a Firearm
Distribution of Cocaine
Distribution of Heroin
Distribution of Marijuana
Distribution of multiple other Schedule I, II, III, and IV substances
Possession of Cocaine with Intent to Distribute
Possession of Heroin with Intent to Distribute
Possession of Marijuana with Intent to Distribute
Possession of Cocaine
Possession of Heroin
Possession of Marijuana
Possession of multiple other controlled substances
Grand Larceny
Petit Larceny – Third or Subsequent Offense
Petit Larceny
Concealment
Possession of Stolen Property
Larceny from the Person
Larceny by Bad Check
Embezzlement
Unauthorized Use of a Motor Vehicle
Tampering with a Vehicle
Robbery
Carjacking
Abduction
Abduction with the Intent to Defile
Abduction for Pecuniary Benefit
Obtaining Money by False Pretenses
Assault & Battery
Assault & Battery on a Law Enforcement Officer
Assault by Mob
Street Gang Participation
Domestic Assault & Battery
Domestic Assault & Battery – Third or Subsequent Offense
Strangulation
Bigamy
Forgery
Forgery of a Public Record
Uttering
Habitual Offender
Hit & Run – Personal Injury
Hit & Run - Property Damage
Obstruction of Justice
Disorderly Conduct
DUI
Refusal of a Blood or Breath Test
Escape from Custody
Resisting Arrest
False Report to Police
Failure to Register as a Sex Offender
Indecent Exposure
Perjury
Subornation of Perjury
Burglary
Possession of Burglary Tools
Property Damage
Computer Trespass
Rape
Forcible Sodomy
Aggravated Sexual Battery
Sexual Battery
Object Sexual Penetration
Carnal Knowledge
Reckless Driving
Improper Driving
Speeding
Eluding
Trespassing
Peeping into a Structure
Credit Card Fraud
Credit Card Theft
Credit Card Forgery
Welfare Fraud
Underage Possession of Alcohol
Arson
Threatening to Bomb or Burn a Building
Solicitation of Prostitution
Prostitution
Making a Threatening Phone Call